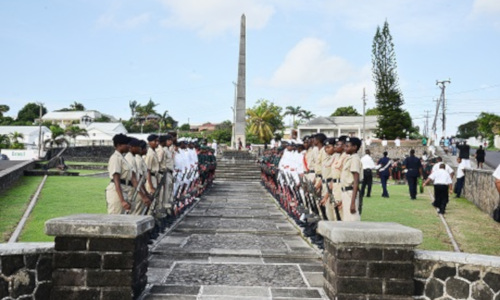 THE WAR MEMORIAL was originally unveiled in 1926 at the place now occupied by the Post Office. It honoured the men who died in the First World War.
In January of 1926 Administrator St. Johnston wrote to the Crown Agents asking for a copy of a book showing War Memorials in English villages as a guide towards decision making. He was sent a publication called Portfolio of War Memorials. There was some concern about the cost of the memorial being at the public expense at such a late time.
On the 2nd Sept the Executive Council decide that the memorial should be erected. Crown Agents placed the order with Dryad Metal Works of St Nicholas Street Leicester on the 25 Aug 1926. It would cost £25. It was to be of cast bronze with scroll and lettering in relief, similar to the one ordered earlier for Dominica. It was to arrive at St. Kitts before 11th Nov when it was to be unveiled. Public works was to build the column on which the memorial would be displayed and a public call for contributions was made. The account was set up at Barclays Bank.

The memorial plaque arrived on the 7th Nov on the SS Ingoma and was immediately the cause of conflict. The heading mentioned only St. Kitts instead of the official name of the presidency which was St. Kitts/St. Christopher and Nevis. The plaque was inserted in the obelisk that had been erected for it but a replacement was called for right away and two more names added. The new tablet which was to leave out the ranks and regiments of the men was to cost £22. Crown agents paid half of the bill. It was shipped on the Steamer Specialist on 30th March 1927. Two other bronze plaques were ordered to enhance the memorial at the cost of £12 also from Dryad. They were shipped separately.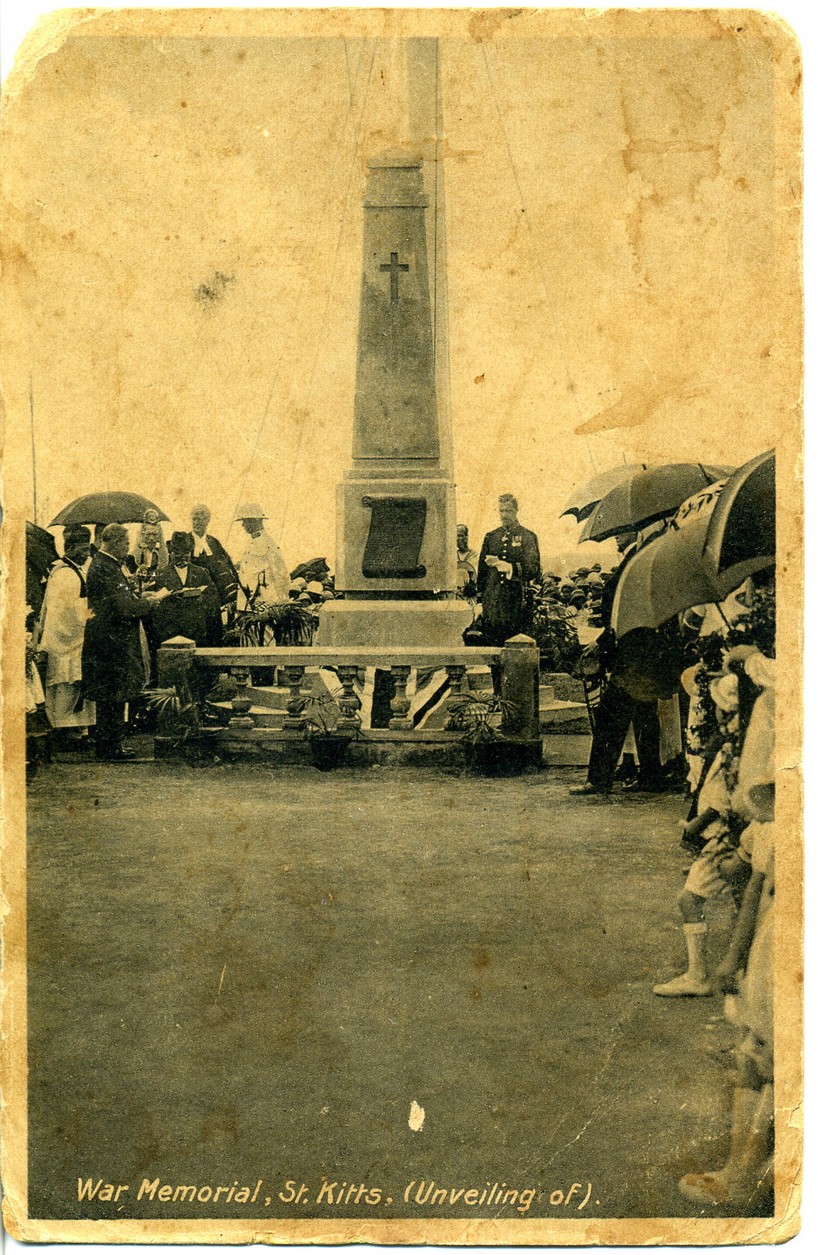 In 1955, following the end of the Second World War, it was moved and replaced by the grander structure and surroundings that can be seen today. The slim white obelisk displays two bronze plaques listing twenty men who died during World War One and six who were killed during World War Two. Three tombs lie in front of the obelisk. Each one is constructed from the stone of one of the three islands which comprised the colony of St. Kitts, Nevis and Anguilla. Every November, the Defence Force, the Police Force and various religious denominations gather at the memorial to remember Kittitians, Nevisians and Anguillians who died in service during the two world wars.