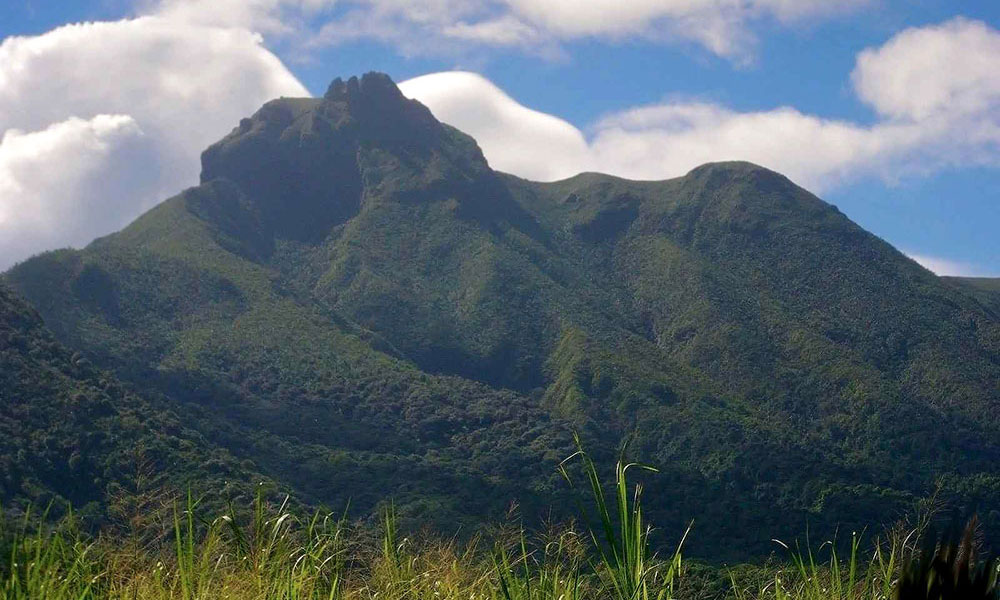 Mount Liamuiga is a stratovolcano which forms the western part of Saint Kitts . This type pf volcano has a steep conical shape made up of many layers of lava, pumice and ash. Liamuiga rises to the height of 1156 meters or 3792 feet making it the highest peak in the Leeward Islands and one of the highest in the Caribbean islands. It has a crater lake at its peak. Its upper slopes are covered with dense tropical rain forest. The last verified eruption occurred 1800 years ago.
At the time of European settlement, the mountain was called Misery, a reflection of the hardship of life in the tropics for the unprepared Europeans who first settled the island and for the enslaved Africans who worked the land that surrounded it.
The first plantations in its vicinity were developed along the coastline by French settlers. The mountain must have seemed distant and inaccessible. Its remoteness, its ancient impenetrable vegetation, its steep crevasses and its cloud cover must have inspired visions of freedom among those who labored in its looming shadow. In November 1639, the first recorded act of mass marronage in the French Caribbean took place in Capisterre. Sixty enslaved Africans, having had enough of their working and living conditions, made their way up its slopes and found refuge in an area accessible only by a narrow pass. They were eventually recaptured but the survival of one of them for a longer period of time became legendary.
Through the 18th century the cane plantations crept up the slopes of the mountain as sugar became a profitable commodity for those with capital to invest. Only the higher elevations of Misery remained unclaimed. And yet, other runaways found refuge there. In 1834, on the eve of Emancipation it had been home to another runaway known as Marcus "King of the Woods", for at least three years. He was so notorious that planters feared their newly freed workers would join him and wreak more havoc on the countryside. Soldiers were sent in to find Markus. Although he was sighted a number of times, he was not captured.
Today Mt. Liamuiga stands as a challenging land mark that attracts hikers and nature lovers in search of an exciting climb to its crater.