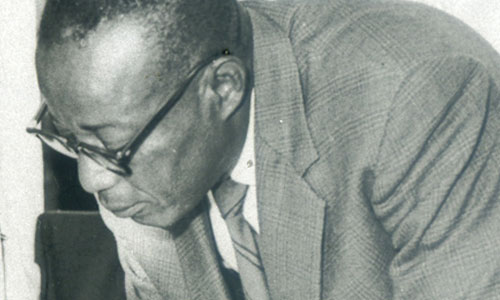 William Florian Glasford was born to Rachel Matthew of Parsons Ground on the 12th December 1908. He attended the Government Elementary School and then took up employment at the St. Kitts Sugar Factory in the dull season. Like many others at the time, he tried his fortune by traveling to Curacao to find employment. On his return he worked as a mechanic at the Sugar Factory.
When the St. Kitts-Nevis Trades and Labour Union was founded in 1940, Glasford became a member and eventually was appointed secretary of the Factory Workers Section of the Union. In this role he had to settle disputes between workers and management and workers and workers. However, his perception of his role allowed him to see the larger implications for the sugar industry on which so many families depended. In an article he wrote in 1957 he expressed concerns over what he noticed.
I often wonder what will be the fate of the sugar industry in the next ten years.
With many of our agricultural workers of the older stock rapidly passing out and the younger ones seeking opportunities to emigrate to sugar plantations in the United States of America and other places, it will be difficult for the industry to carry on.
He found that his work involved persuading workers to be more co-operative in the reaping of the crop but he did not hesitate to publicize their dissatisfaction over the seasonality of their employment. His conciliatory and moderate approach to issues of various kinds, his ability to see both sides without losing sight of the bigger picture enabled him to handle disputes between employer and employee both at the factory and elsewhere with a fair measure of success.
Glasford served for various terms on the Union's Executive Committee and held the post of Vice President of the Union from 1945 to 1947. He also participated in the activities of other committees dealing with sports and entertainment. In 1948 he was given the opportunity of attending a trade union course in Barbados and on his return he organised a series of evening classes through which he shared his newly acquired knowledge.
Within the political arena, Glasford maintained a close connection with the Workers' League which was soon to become the Labour Party. He served on its Board of Directors and was a Labour candidate for East Basseterre winning a seat in the Legislature in the elections of 1957, and 1966.
During that period he was appointed as a Minister of Government holding the portfolio of Agriculture and Labour. It was in this capacity that he took measures to improve livestock production by establishing paddocks for animal grazing, introducing new species of grass, and improving drinking facilities. He placed a great deal of emphasis on peasant development in both Nevis and Anguilla and was most anxious to obtain money with which to make small loans available to fishermen.
In matters relating to labour, Glasford faced a period when expectations of returns from employment in St. Kitts could not match what could have been gained elsewhere. The Government, and Glasford in particular was being accused of trying to prevent people from leaving to take up jobs in the United States. However. it was during his tenure that a number of schemes where developed. These included recruiting workers for the catering division of Lyons and Co. in England, domestics for work in Canada and the United States, Anguillan agricultural workers to work in the sugar industry of St. Croix. Whenever necessary the Labour Department provided training to ensure successful employment and negotiated contracts with prospective employers in an effort to provide workers with a measure of security.
On the home front, Glasford had to deal with the Sugar Association which was claiming that a shortage of cane-cutters meant that hundreds of tons of cane were not harvested. The Administration was not convinced that the situation was as bad as the Association claimed. Glasford felt that if a real effort was made to recruit workers in all three islands there should not be any difficulty in harvesting the crop.
In 1971 Glasford was appointed Speaker of the House of Assembly, a position that required patience and dignity in order to ensure an atmosphere of respectability was maintained even when debates became heated,
William Glasford died on the 3rd August 1978.