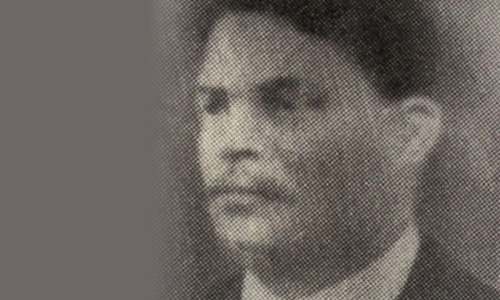 Victor Emaunuel John was born on the 1st Dec 1877 to Ishmael John and Catherine Phipps.  The couple were married on the 23rd Dec of that same year in St. Ann's Anglican Church in Sandy Point.   Ishmael John was a St. Vincentian who had been given the appointment of  schoolmaster at the Methodist School in Sandy Point, St. Kitts. It was there that young Victor received his early education and developed an ambition and intellect not unlike that of his father.
At 16 years of age Victor John became a licensed druggist and served at the Pogson Hospital under Dr. J. A. Foreman. Two years later he felt confident enough to acquire the business of Dr. Charles Blanchette in Dieppe Bay and set up his own business. Dr. Christian Branch, Medical Officer for Dieppe Bay and the surrounding areas was his advisor. He later set up another outlet in Sandy Point and started training other members of his family in the art of dispensing. His first student was his younger brother Frederick.
John also took an interest in photography and produced a number of postcards with views of St. Kitts. Among the products he stocked in his drugstore was Illford film for which he also held the agency. He was able to use his agency to sponsor a sport he enjoyed - cricket. John was the captain of the Illford Film Cricket Team out of Sandy Point
In 1901, Victor John married Fanny Caesar and together they had two children, Vance and Pearl. In 1906 the business was moved to Basseterre, chiefly to facilitate the education of the children. They opened the Paragon Pharmacy on the corner of Church Street and Liverpool Row. Fanny John was the only woman in St. Kitts with a license in the profession.
Like several other independent men of his time, John became involved in the early fight for representative government in St. Kitts. He was an active member of the Taxpayers' Association which scrutinised many of the activities of the colonial administration. In 1932 he became one of the pillars of the Workers' league. He was its first Vice President and a subscriber of the Memorandum and Articles of Association. John's drugstore was one of the favoured meeting points for the members of the League and their supporters.
Victor John died on the 1st April 1938 after a short illness