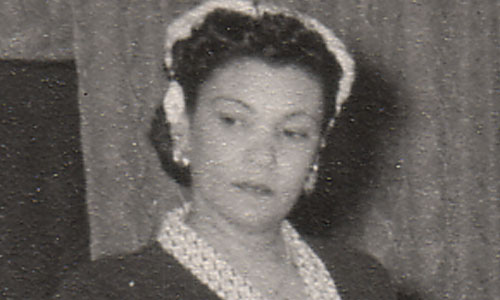 Aimée Gertrude Dinzey was born on 7th January 1902 in Gustavia, St. Barthelemey, French West Indies. Her parents, Charles and Florence Dinzey had three children, she being the eldest and their only daughter. In 1910, Charles, who was a shoemaker by trade, along with his family came to St. Kitts to work.
In 1919, at the age of 17, like so many others of the time, the tall and beautiful Aimée set sail on the Korona for to New York where she worked as a nanny. She left for St. Kitts three years later when she realised that her mother had no female relatives left on the island. Her second stay in New York started in 1939 and this time she was trained as a hairdresser. On her return to St. Kitts, she became the first professional hairdresser on the island and the proprietor of the Milady Beauty Salon, on the corner of Fort and Central Street. The motto of her establishment was loveliness made lovelier. Her business premises, from time to time, was a ticket outlet for theatrical events.
New York brought out the creative spirit in Dinzey. It was there that she met and became friends with musicians Eubie Blake, Fats Waller and Andre Razaf, a prolific composer. Her friendship with Razaf must have made quite an impression on him because he later dedicated his song Memories of You to her.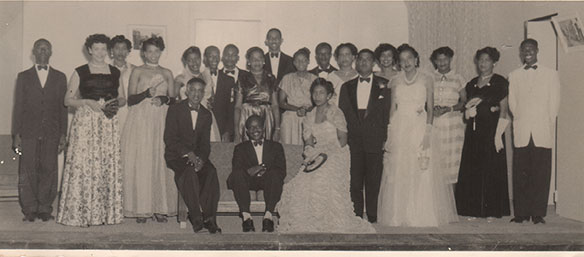 This creativity continued to find expression in her activities in St. Kitts where she became one of the founding members, and president of the Basseterre Players, a theatrical group engaged in producing plays for public entertainment. She acted in presentations of Shakespearian plays and performed leading roles in the lighthearted presentations of Lady Windemer's Fan (1954) and the Matchmaker, the last being the stage production of Hello Dolly . In June 1960, Noel Vaz, Staff Tutor in Drama at the University College of the West Indies, visited St. Kitts on the occasion of the staging of the Leeward Island Drama Festival and was an inspiration to Dinzey. She also became a member of the St. George's Anglican Church Choir.
In a small publication which appeared in 1960, John Brown, resident tutor at the University College of the West Indies chose to include two of Dinzey's short stories. Then in 1966 she formed part of the Statehood Celebrations Committee which was preparing for the advent of self-government in the State of St. Kitts-Nevis-Anguilla.
Dinzey also found time to teach herself painting. She practiced by copying other paintings and pictures to which she made minor alterations. Her water colours of orchids and other flowers captured their delicate beauty. She also enjoyed painting local scenes such as Brimstone Hill and fishermen making nets on the shore. The globe which was displayed at the University Centre, and which was recently destroyed by hurricane, was her creation. Dinzey taught Art at the High School for a year and had several private students.
Aimée Dinzey died on 26th February 1976 and was survived by her only daughter, Carmen Dinzey Brookes and her family.