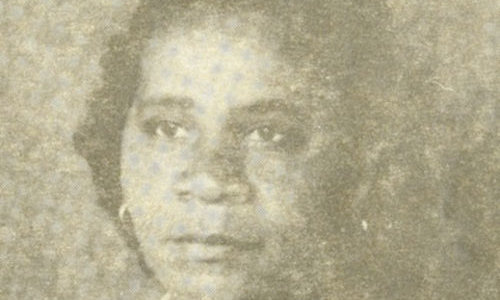 Ismay Burt was the daughter of Hennrietta Edmeade of Sandown Road, New Town. She was born on the 20th March 1916. She was educated at the Girls' School where Isa Bardley was headteacher. It was Bradley's custom, at the time, to pick bright students to become pupil teachers and then advance them to teachers' training. Young Ismay was chosen for the teaching career. Her home became a meeting place for others following the same path. She was eventually awarded a scholarship to the Spring Garden Teacher Training College in Antigua where she excelled.

On her return to St. Kitts, Burt taught at the Basseterre Boys School where she prepared students for the annual common entrance and Scholarship examination for admission to the Grammar School. Teacher Buttie, as she was affectionately called, encouraged her students to do their best and proudly followed their achievements through like. The late Joseph S Archibald QAC described her as a "Light to all. Because of her there was no darkness or guile." At the same time she was also "the passport needed for the adult functions without which one did not bother to ask for permission to attend."

In 1946 Miss Burt along with four others from the Leeward Islands earned a grant through the Department of Development and Welfare in the West Indies to learn handicrafts in Trindade. She became a specialist teacher and, on her return, facilitated a workshop to share her newly acquired knowledge with other teachers. This was held at the pavilion at Warner Park and was attended by at least one teacher from every public school. She taught hat weaving and the making of bags purses, placemats, fans and baskets out of screw pine. Her training sessions were designed to encourage independence and enhanced earrings especially among young women. Burt took this development in her career so seriously that she often used her own resources to make classes possible. She also organized exhibitions of the work produced by her trainees.

Miss Burt was an active member of the Newtown Community especially through Hope Chapel. In the nearby Lodge building she hosted an annual Christmas programme featuring the Newtown Junior Choir which she trained. She organized the Christmas Tree lighting at Ponds Pasture and made sure there were gifts for the less privileged in the community. Teacher Burt also organized parties for returning nationals at Christmas.

When she retired from teaching, Ismay Burt continued to teach handcrafts to teachers in training. and during the summer vacation. She organized a Golden Age Club out of her home in Birdrock. She was a member of the Soul Carnival Organising Committee and served on the Social Security board.

Ismay Almyra Burt died on the 8th May 2001