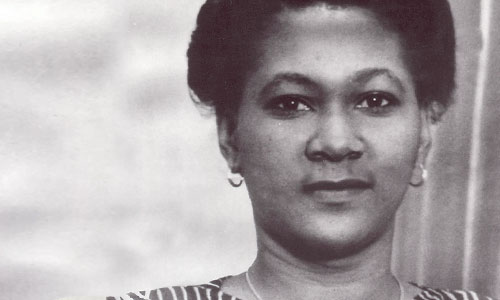 Bronte Agatha Welsh was born in Challengers Village on the 31st December 1918, the first daughter of Evan and Annie Welsh and the second of their six children.  Evan was a mason and Anne a seamstress so Bronte and her brothers and sisters grew up in a household were industry was highly valued.
Her early education took place at a small private school. However, at eight years of age she was enrolled at the Basseterre Girls' School. She remained there until she was twelve years of age and had passed through the 7th standard. Bronte then went on to attend the Girls' High School. However life as a boarder in Basseterre was proving to be rather difficult and she opted to return to her home and parents in Challengers and to commute daily to school. The lack of regular motor transport made travel tedious and this affected her work so at sixteen years of age she left school without having sat the Cambridge School Certificate examination.
For about three years she engaged in private teaching, but her true love was nursing. She was able to enter the profession at the age of nineteen. For a short while she stopped nursing to work in a pharmacy where she learnt much that would later be of use. In 1942 Welsh joined the staff of the Cunningham Hospital where, for three years she worked as a general nurse until she obtained her certificate in General Nursing and Midwifery and attained the rank of staff nurse. She then branched off into Public Health or Preventive Nursing. She became the first Public Health Nurse to be recognised in St. Kitts.
Her training took her to Trinidad in 1949 where she completed a course on the control of Social Diseases. In 1952 she went to Jamaica for further studies and specialised in the eradication of tuberculosis and obtained the Health Visitor's Certificate of the Royal Sanitary Institute. A BCG vaccination campaign was launched in 1953. This was a cooperative project by UNICEF, WHO and the local Health Department. In October 1953, WHO Technical Adviser Dr Lampart, arrived in St. Kitts and after two weeks of intense preaparation the campaign was launched the following month. The local team consisted of Dr. B. Ross, Bronte Welch and E. Fergus. 24,366 persons between the ages of one and fifty years of age were tested in St, Kitts, 9,206 in Nevis and 3,961 in Anguilla. A total of 14,056 persons were vaccinated. This was a time when superstition dominated the way of thinking of the ordinary person in the street making it hard for him or her to accept the practices of modern medicine. However intense educational work broke down barriers. The response was very positive and the team completed its mission by March 1954.
In 1954 Welsh obtained a British Commonwealth Scholarship funded by the British Red Cross to study at the Queen's Institute of District Nursing. During this course she learnt how to adapt hospital methods to the varied conditions found in people's homes.
On her return to St. Kitts she was appointed Supervisor of Public Health Nursing and in 1957 she became the first local nurse to hold the position of Superintendent of Public Health Nursing. In 1963 Welsh was again in England studying Public Health Administration at the Royal College of Nursing in London. Her nursing career meant involvement in professional organisations such as the Nurses Association, the Civil Service Association and the Red Cross. Welch was instrumental in negotiating a pension for midwives and in lifting the restrictions that deprived married women from obtaining training overseas.
Welsh retired from the Government Service in 1971 and emigrated to the United States Virgin Islands. She attended college in order to obtain the necessary credits for appointment in the nursing field there. On completion of her studies, she worked at the East Health Centre in St. Thomas and was eventually put in charge of a new project initiated by the Federal Government of the USA.
Tragedy struck in 1979 when a fall injured Welsh's spine. Surgery proved unsuccessful in restoring her mobility and after some two years of treatment and therapy, she returned to St. Kitts confined to a wheel chair. However her spirit remained indomitable as she piloted her wheelchair to church services, ceremonies in Warner Park and other gatherings. She was determined to show that disability was no excuse for withdrawal from society.
Welsh remained a lively conversationalist and gladly shared her recollections about her profession with friends and relatives. Finally she put it all on paper in the form of a booklet entitled Nursing - A Calling or a Career. The proceeds from this little publication went to assist the Society for the Handicapped in the purchase of a van for transporting the physically challenged.
Bronte Welsh died in August 1997.