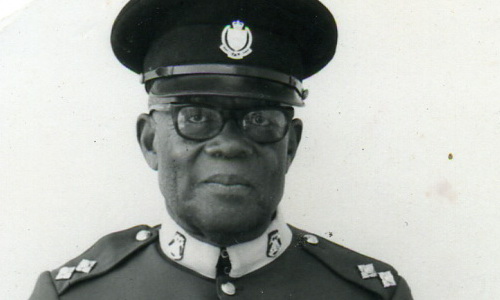 Edgar Samuel Bridgewater was born at Westbury, Nevis on 3rd October 1900. He was one of eight children born to George Bridgewater and his wife Amanda. As the father was a policeman, the family moved around a great deal. Edgar first emigrated with the family to Antigua, where he attended the Buxton Grove Primary School. At twelve years of age, young Edgar was taught by his father to play the organ. He came to St. Kitts in 1912, continued his education and at thirteen years of age he became a pupil teacher. In 1915, he returned to Nevis where he worked as a tailor. Then two years later he settled in St. Kitts and joined the Defense Force. The First World War was then raging in Europe and the Government in the colony set about the establishment of an enlarged force. Machine gun sites were established at various strategic locations and a state of military readiness was maintained by regular alarms and surprise calls. Bridgewater served as one of a crew of ten manning a gun sent by the Canadian government to protect its shipping line on which St. Kitts was a port of call.
The decade from 1920 to 1930 found Bridgewater living in Dominican Republic. While there he teamed up with W.J.E. Butler, another Nevisian, to train the Moravian Choir officiating as its organist whilst Butler was its director. He also became heavily involved in the Marcus Garvey Movement and soon found himself functioning as Assistant Secretary of the United Negro Improvement Association.
The Garvey Movement became the target of suspicion by the Americans who then occupied Santo Domingo. One Friday night as the choir practiced, they were all arrested and charged with incitement. Bridgewater spent thirty days in jail and at the end of that period he found himself the leader of the movement.
Returning to St. Kitts in 1930, Bridgewater again joined forces with Butler and became a member of both the Esperanza Band and of the Defense Force. He continued to pursue music with a passion and in 1938 formed the Defense Force Band and took on the role as its Bandmaster.
He also increased his knowledge through correspondence study and qualified for the post of court stenographer at the Basseterre Magistrate's Court. In 1939 he joined the Civil Service as a temporary clerk attached to the Labour Office. And eight months later was appointed Chief Officer of H.M. Prison. In June 1941 he attended a Prison Officer's training course in Trinidad and was accorded a special mention for passing out at the top of a class of forty-five. In 1942 Bridgewater was appointed Keeper of the Prison succeeding Knight as prison superintendent a position he continued to hold till 1958. In this capacity he was instrumental in the establishment of the Prison farm in Nevis.
His increased work load did not diminish his interest in music and he continued to serve as leader of the Defense Force Band producing many of the finest musicians on St. Kitts.
When Police Commissioner, John Lynch-Wade attempted to give the Police Force a wider social base, he called Mr. Bridge out of retirement to establish the Police Band. For years that band under Bridgewater's guidance, participated in festivals under the name of Police Brass. When the band made its last march in 1980, Mr. Bridge then 80 years of age marched at the front. In 1983 Bridgewater went on to launch the Nevis Symphonic Band to which he was still giving Bridgewater also owned and operated a music shop on Burt Street but his activities in St. Kitts went beyond music.
The Prison Keeper before him ran a small penny bank for the poor people of the Methodist Church. Perhaps this was the inspiration behind the St. Kitts Industrial Bank. Along with Stanley Procope, Bridgewater promoted the idea and established a banking office on Central Street.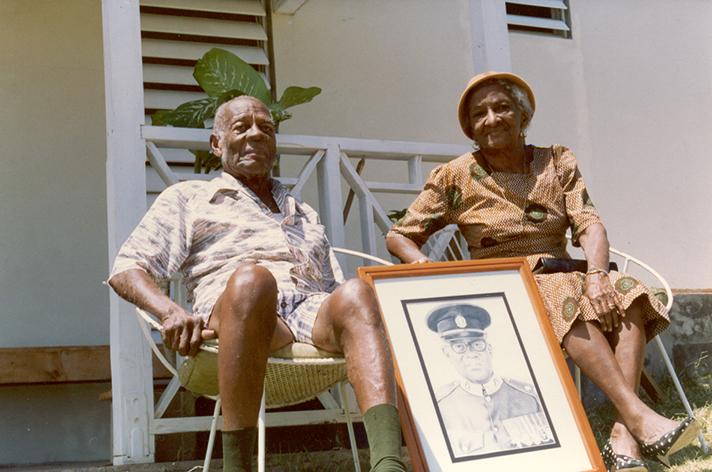 Hilda Bridgewater tells how, in the first few days of the enterprise, her husband asked her to lend him $40.00 so that he could make a loan to a client. When she expressed concern, Bridgewater told her that the Lord would take care of things. The Penny Bank as it was called allowed its customers to open an account with just one penny and many, who had experienced difficulties in dealing with the foreign banks, took advantage of the possibility of saving for a rainy day. It was this institution which was later to become The St. Kitts Nevis and Anguilla National Bank of which Edgar Bridgewater was a founding member. In a message published on the 20th Anniversary of the founding of the National Bank, Bridgewater recalled those early days,
You can imagine how the Bank clerks where we kept our accounts, used to 'eye' us whenever we turned up with these bundles of pennies to deposit. Often times we were left for the last to be served and as we watched them counting those pennies we got the feeling that they regarded our business as some sort of nuisance business.
Bridgewater also served as a member of the Central Housing Authority at a time when it was engaged in promoting aa improved standard of housing at an affordable price for working class people. He was also the Chairperson of the Public Service Commission.
Edgar Bridgewater died in Nevis at the age of ninety-five years on Thursday, August 29, 1996.