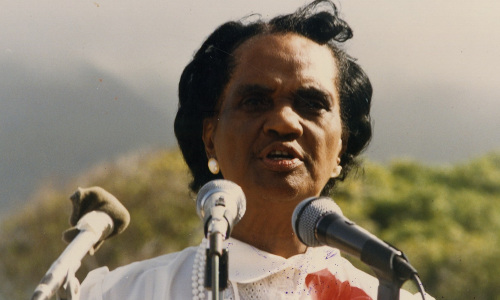 Mary Georgina Charles-George was born on 19 July 1913 to Henry Elijah Charles and Frances Ann nee Carey of Phillips Village. Both of her parents were skilled people who had grown up in the same village. Henry was a carpenter and Frances as a seamstress. Mary was their first child and they instilled in her a good work ethic and a great sense of pride.

As a child she attended the Estridge Moravian School and obtained her 7th Standard certificate then at the age of 13, she became a pupil teacher. Her father died in 1928 when Mary was only 15 years old. The family belonged to the Moravian congregation and the church facilitated her teacher's training at the Spring Gardens Teachers Training College in Antigua by way of a scholarship. For about a year after graduation she was without a job but she offered her services to the same school that had initiated her education.

Mary Charles later taught at St. Paul's, Trinity Palmetto Point, Molineux, and Cayon, taking on the role not only of teacher and head teacher but also of mentor and counsellor for many young persons and younger teachers. She strongly believed in solidarity within the profession and was involved Teachers Associations in St. Kitts as well as in the Caribbean Union of Teachers.

Miss Charles was also very community minded and often participated in the beautification of her village. She also took an active interest in the lives of youths. Then in 1957, following the death of her sister, she became the guardian of five nephews and still she continued to mentor others outside the home. Those who were not employed she assisted with the preparation of job applications. She encourage parents to consider sending their promising off-spring to study in England. She gave opportunities to girls who had become pregnant while still in school to do their final exams. While she believed strongly that youths should not waste their lives, she also realized that that sometimes they needed a helping hand whether this meant nudging a young woman to study nursing abroad or putting in a good word for a deserving person with a prospective employer.

Writing about his experiences at Trinity School, Sir Probyn Innis singled our Mary Charles as a teacher par-excellence "There was no formal Parent-Teacher Association at Trinity School at that time, but "Teacher Mary" had ways and means of reaching the parents to urge them to do what she considered to be the best for their children". Even while on vacation in England, Charles continued her campaign to improve the prospects of young people in St. Kitts. When she came across parents who had gone to England leaving children with relatives, she encouraged them to send for their children believing that they would be better off with their parents. Many heeded her advice even if they had to do so, one child at a time.

Outside of school, Mary Charles was the moving force behind organizing the Molineux Cricket Club. She enjoyed a good game of cricket as long as the Sunday games were played after "Church Time", that is not before one o'clock. She also organized the Christ Church Literary & Debating Society which exposed individuals to many cultural, social and educational events. There were regular club meetings which helped with the development of leadership skills; outings and picnics to places of interest and the fund-raising dances.

Mary Charles retired from the government service in 1970 and in the 1971 election, she became the first woman to present herself as a candidate in a general election in St. Kitts and Nevis. She ran on the ticket of the People's Action Movement against a very popular candidate, E St. John Payne, of the Labour Party and lost. The following year she moved to the Virgin Islands where once again she joined the teaching profession. In 1975, she married Valdemar George and they settled in Christiansted. Mary Charles-George retired from teaching in 1978 and in 1979, she was made a life-time member of the Caribbean Union of Teachers In recognition of her many years of service to education, She was awarded the Order of the British Empire in the New Year's Honours for 1985 and a hospital in Molyneux was named in her honour in 1986. Mary Charles-George died on the 18 March 2008