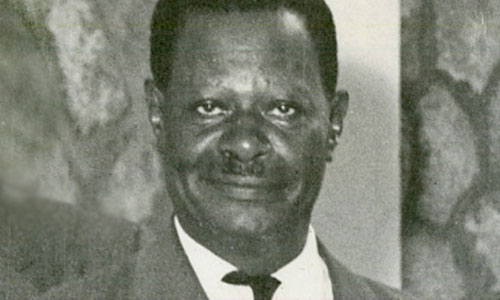 Frederick Theophilus Williams was born in St. Paul's on the 10th November 1906. His parents were Edmund Williams, a labourer and his wife, Phoebe Ann. As a child he attended the school run by Sophia Jane Thomas and joined the St. Paul's Parish Choir. At an early age he moved to Basseterre where he became an apprentice in the carpenter's trade in the workshop of his brother, Charles, who was a building contractor.
In hope of bettering his prospects, Williams travelled to Aruba where he spent a few years. In the 1930s he became involved with others of like mind in improving the conditions of workers in St. Kitts and joined the Workers' League. He served on its Board of Directors and following Manchester's death in 1943, he became its president. He was in the forefront of agitation for new laws relating to the formation of Trade Unions, the Right to Vote and Workmen's Compensation but his presidency was overshadowed by the stronger personality of Robert Bradshaw who was president of the Union and vice-president of the League and who became the spokesman for both organisations.
As a result of the activities of the League, the St. Kitts-Nevis Trades and Labour Union was organised in 1940. F.T. Williams held the post of Treasurer of the union for many years and did not hesitate to financially assist the fledgling organisation when its own funds were wanting. He also served as chairman of the Tradesmen and Allied Workers Section. His diplomacy in handling disputes won him high regard in the sphere of industrial relations.
In 1952, Williams was elected to the Legislature and in 1956 with the advent of the Ministerial System he was appointed Minister of Social Affairs and later of Communications and Works. In 1966 he was appointed Minister without portfolio and given the role of Chairperson of the Central Housing Authority. He was also a Director of National Bank. Yet Williams remained a simple man at heart and he often was the subject of jokes which depicted him as a person inexperienced in the social graces.
F.T. Williams died at the JNF Hospital on the 8th February 1977 after a very short illness. He was survived by his wife Agnes, three daughters and two sons.