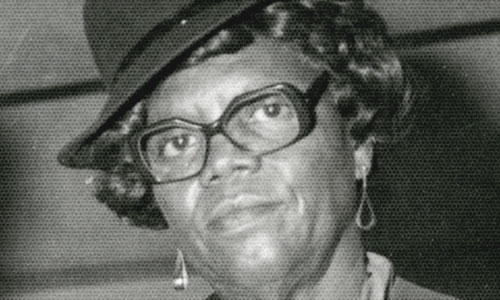 Ada Mae Andrews was born in Antigua on the 9th June 1911 and came to St. Kitts in 1930 immediately after graduating from the Antigua Teacher's Training College. Her first appointment was as Assistant Teacher at the Sandy Point Boys' School where she came under the influence of two of the best teachers on the island, J. E. Hanley Headmaster of the Sandy Point Boys' School and Ann Locker (later Lady Allen) Headmistress of the Sandy Point Girls' School both of whom worked closely to further education in their community. She also served as an officer of the Girl Guides. Other postings followed for the young graduate - St. Peter's school in 1935, Basseterre Girls' School in 1938 and later that same year she was appointed Headmistress of the Dieppe Bay Infant School, Trinity school in 1941 and in 1945 St. Johnston Village School.
In 1948 Mrs. Edwards went to Port of Spain Trinidad where she undertook a course of training at the Government Training College for Teachers and on her return she was appointed Supervising Teacher for Nevis. Four years later she was moved to Basseterre as Supervising Teacher specialising in Domestic Science, also during that year she was able to enrol in a course at the Seaford Housecraft Training College for Teachers at Seaford in the UK and then moving to London she took a special course at the Applied Nutrition Unit at the London School of Hygiene and Tropical Medicine.
On her return to St. Kitts, she was appointed teacher in charge of Home Economics for the Territory. From 1959 she was given the responsibility of training young women who were attempting to go to Canada as domestic servants. This was a programme that helped alleviate unemployment in St. Kitts and presented the young women who participated in it an opportunity of moving to a country where they could further their careers in other fields once their contract was completed. Many found work in hospitals, factories and in offices in Toronto and Montreal. In all nine groups of women from St. Kitts were trained and sent to Canada under the programme.
In 1960 Edwards was appointed Assistant Inspector of Schools for Home Economics which involved assisting the education Department to develop its nutrition programme. During the Royal Visit of 1966, Edwards and her team prepared the meals for the visiting journalists and this won them acclaim in The Times. Further recognition came her way when that same year she was made a Member of the British Empire. During the period 1968 to 1973, Edwards worked tirelessly with Chief Education Officer, Charles Mills to reorganise the Department of Education.
Following retirement from the civil service, Edwards took on new challenges. She served as Executive Officer of the St. Kitts Trades and Labour Union and as acting editor of The Labour Spokesman. Then in 1978, following the sudden death of Speaker Glasford, she was elected by the House of Assembly to be its first female Speaker. She accepted the appointment on behalf of all women and stated that this was recognition of the worth of women in society. She also served as secretary and chairperson of the Friends of the JNF hospital. In the Methodist Church she sang in the choir, taught Sunday School and was Sunday School Superintendent and when Hope Chapel in Newtown was established as a congregation, she was assigned the task of making it into a welcoming place for the people who chose to use it.
Ada Mae Edwards was married to Walter Edwards, a lawyer, who predeceased her. She died in 2004 but will always be remembered as a woman of great dignity, and disciple.