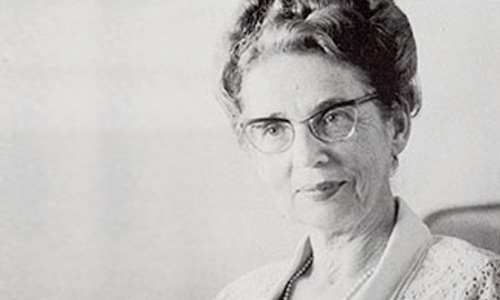 Zenaida Katzen was born in Eastern Siberia in 1911 to a Russian Orthodox mother and a Jewish father. Due in great part to her father's allegiance to Tsar Nicholas II, her family had no choice but to flee Russia or face certain death at the hands of the Bolsheviks as the October 1917 Russian revolution advanced to the Russian Far Eastern town of Nikolaevsk-na-Amur. The family took refuge in Shanghai, China.
After completing high school and university in Paris, Zenaida returned to Shanghai where she taught school, got married and gave birth to a son in 1937. When the Japanese invaded China in 1939, the family fled once again. This time to Chile.
She founded a very successful school in the small town of La Serena in northern Chile in 1946.
In January 1961, at the age of fifty, she arrived in St. Kitts, accompanied by her mother and her aunt, in order to fill a Mathematics vacancy at the St. Kitts-Nevis-Anguilla Grammar School. Before long she switched to teaching French and Spanish and by the time she retired in the late 1970s, she had revolutionized the way modern languages were taught in the region.
For the rest of her life, and the lives of her mother and aunt, St. Kitts was the last stop on their long journey across the globe. She would become a part of the fabric of life on the island. The contribution she has made to the education of youngsters could only be described as immeasurable, frequently procuring financial resources from a wealthy family in Hong Kong to pay for students' school uniforms, books, language trips abroad and university scholarships. She knew all of the important people on the island and knew how to get things done.
An animal lover, her home was always filled with a menagerie of cats and dogs. In her later years she could be seen making daily trips to Conaree to feed a collection of feral cats and dogs.
Along with her mother and her aunt, all three members of her family are buried in Springfield cemetery, Basseterre.
____________
FROM SIBERIA TO ST. KITTS: A Teacher's Journey by Ira Simmonds is the biography of Zenaida Katzen. The author was one of her former students. He received research help from the St. Kitts National Archives as well as the Hong Kong Heritage Project (HKHP),
After five years of research which took him to Shanghai, St. Kitts, Hong Kong, Paris, Santiago de Chile and La Serena, Chile, Simmonds is able to weave the disparate threads from Russia, China, Chile, France, and St. Kitts-Nevis into a vibrant tapestry revealing a surprising and exceptional woman. Stepping outside of the spinster-teacher archetype, Katzen's story is one of a complicated, fiercely independent woman whose decades of unwavering dedication and commitment to the education of children across the globe belie an intriguing, unpredictable and, at times, inexplicable personal life.
FROM SIBRIA TO ST. KITTS: A Teacher's Journey by Ira Simmonds will be published in February 2018 and available for purchase on Amazon in paperback and eBook format.