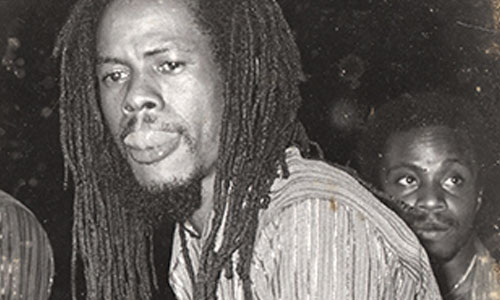 Ras Tambora Kitwana was born on the 7th Jan 1949 and given the name Fitzroy Christian Matthew. He grew up in Irish Town. His interest in music started early in life and at the age of 14 he started performing with the Joseph Liburd Orchestra. Known variously as Fitzy, Chili, Jerry Mopstick and finally as Tamora, he moved through the Kittitian musical arena with the ease of one born to be a musician. He played with the Silver Rhythm Combo, Grand Ash 2, Ellie Matt and the G Is Brass and the G Is Brass International travelling widely in the Caribbean, Europe and North America.
Tambora joined the Rastafarian movement at a time when doing so often incurred the wrath of the authorities.
He read widely and collected information in books and from newspapers. It was an interest that stood him in good stead when he was given the opportunity to run a regular morning program on ZIZ called Under Banyan Tree. His short presentations highlighted local cultural traits and personalities in ways that were meaningful and easily remembered. He became a reference point for students and teachers alike.
His performances earned him numerous fans and his cultural contributions brought him acclaim and awards culminating in the Medal of Honour in 2009
Tambora Kitwana died on the 23rd Jan 2013.