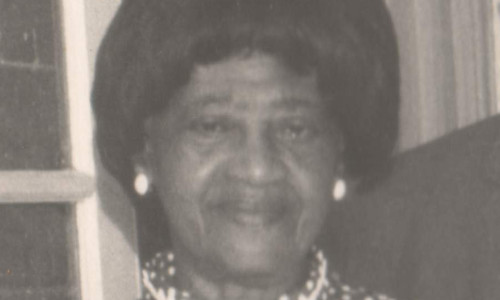 Annie Maude Matilda Locker was born in Montserrat on the 20th March 1893. She was the eldest of three daughters of Police Sergeant Michael Locker and his wife Ellen. Annie's early education was in Montserrat and Antigua. She came to St. Kitts at the age of twelve years when her father who served in the Leeward Islands Police Force was transferred to the Dieppe Bay police station. Annie attended the Bethel Moravian School and in 1909 became a pupil teacher at the Dieppe Bay Methodist School. This meant that she taught a class and afterwards was tutored by the head teacher in preparation for the examination which had to be taken every year. This was a condition for anyone who wanted to remain in the service and advance to appointment as an Assistant Teacher.
As a pupil teacher, Annie was paid six shillings and eight pence a month and this was increased to eight shillings and four pence (approximately $2.00) when she became a second year pupil teacher. She was transferred to Sandy Point Girls' Primary School and then to Charlestown Primary School as her father was called to serve in one police station after another. Meanwhile her mother taught her sewing and needlework and she also took piano lessons.
While teaching in Charlestown, Locker won a scholarship to the Spring Gardens Teachers' College in Antigua. This College was a training school for female teachers in the Leeward Islands, and offered annually one scholarship to third-year pupil teachers.
Following graduation, Locker returned to Charlestown Girls School as an Assistant Teacher. She then served in Dominica for a short time and was later appointed as head teacher at Old Road Primary School. In January 1927 she was appointed head teacher of Sandy Point Girls' School where she served until 1944. However in 1937 Annie Locker had married Milton Allen and had taken long leave to accompany him to New York. While in the Unites States she pursued studies in teaching and industrial arts at Columbia University.
Mrs. Allen was painfully aware of the emphasis on theory and the lack of practical applications within the education system. In order to compensate for this deficiency, she often provided at her own expense, the necessary material and equipment required to introduce Domestic Science and the different techniques of embroidery at her school. On the other hand, her husband, who for a while continued to live in New York, supplied her with published sheet music for her school concerts. These concerts she organised in collaboration with John Edgar Hanley, Head teacher of the Sandy Point Boys' School.
It was during this time that she founded the first Girl Guides Company in the rural area. Her main objective was the development of self-worth among girls and young women. This she attempted to achieve by encouraging the girls entrusted to her care some of whom at various times lived in her household, to participate in activities that broadened their horizons. She often warned them: "It is better to wear out than to rust out." The Third St. Kitts Guide Company was made up of predominantly country girls from working class backgrounds. Urged by their founder, they attended every rally and meeting to keep abreast of developments in the world at large.
In the days when private vehicles were few and public transportation practically non-existent, she along with her students, still managed to attended concerts and cultural events in Basseterre. Her good relationship with people of all classes usually guaranteed a ride home at the end of the evening. In Sandy Point and the surrounding communities, Mrs. Allen was a highly respected person and there were many households where decisions would not be taken unless she was consulted.
On the 6th January 1945, Mrs. Allen was appointed the head teacher of the Basseterre Girls' School which at the time had a roll of five hundred students and a staff of fifteen mostly pupil teachers. Her interest in extra-curricular activities continued and she was able to organize a teachers' choral group which regularly produced concerts that attracted enthusiasts island-wide. She also played the violin and was a member of the Basseterre Players, a theatrical group while serving on the Board of Education. In 1951 Mrs. Allen became the first primary school teacher to be awarded an honorary title of Member of the British Empire (MBE). Two years later she retired from active teaching.
Her retirement from the field of formal education did not mean the end of Mrs. Allen's involvement in the community. Social and church work continued to keep her busy. She even served as Guide Commissioner for a time. She kept in touch with young people and old friends and never forgot a girl she had taught.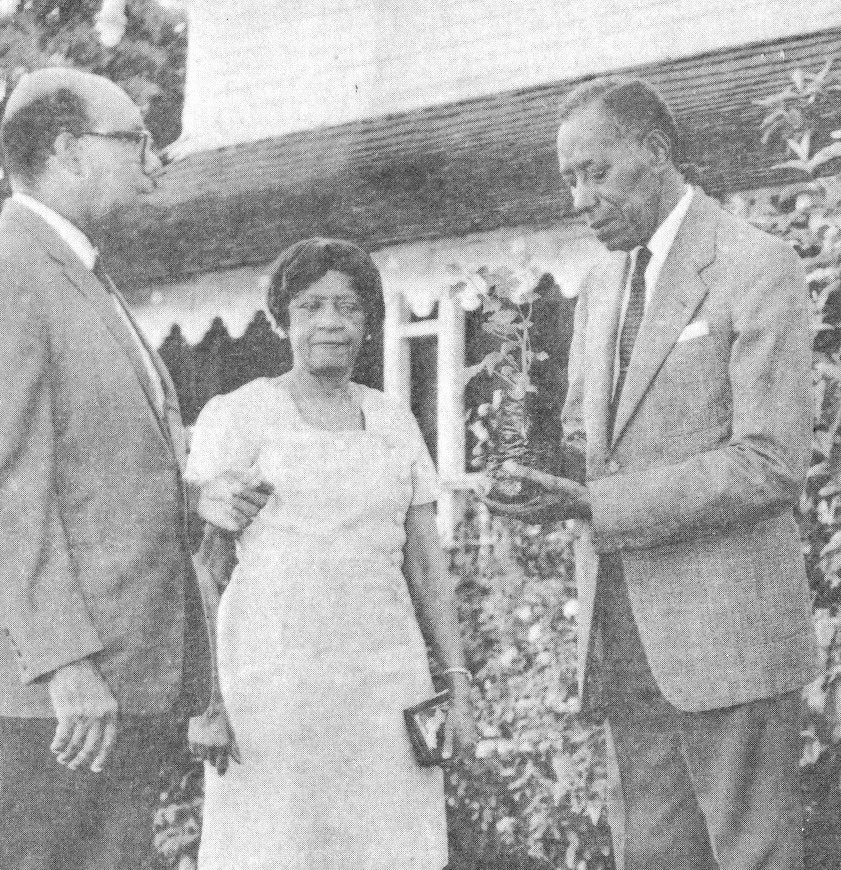 In 1969, when her husband became the first national of the state to serve in the position as Governor she was able to support him in his official duties. Her excellent conversational skills, her refined good manners and taste for good clothes stood her in good stead. Sir Milton and Lady Allen brought a special dignity to the office and this was warmly appreciated by the citizens. Nor were former colleagues forgotten. On the 6th March 1975, Lady Allen realised her desire to entertain teachers at Government House. Among those attending the "at home" were several retired teachers who had been students of Lady Allen. On that occasion she spoke with pride about the role of the teacher but also gave a word on admonition:
I shiver when I hear so many unpleasant remarks about the children of today, when by my experience, I feel the blame should fall on the parents and the teachers of today.
Following Sir Milton's retirement from public office in 1975, they moved to their private home in Fortlands. Lady Allen died peacefully at the J. N. France General Hospital on 19th February 1979.