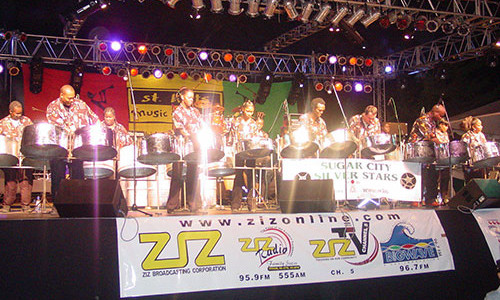 The St. Kitts Music Festival takes place every year at the end of June. It was the brain child of then Minister of Tourism and Culture, G A Dwyer Astaphan who wanted to create an event that would attract visitors to St. Kitts in the off season and to expose the creative elements on the island, and the general public to the different genres of music. The festival's website sets out its objectives as follows:
to increase visitor arrivals; improve hotel occupancies; stimulate greater economic activity across all commercial sectors; create greater international awareness for the destination as a viable option for visitors; while also producing a world class entertainment event attractive and appealing to Kittitians/Nevisians and tourists.
But there were two other objectives. The organizers were determined to use the festival as a platform to roll out Kittitian talent and to also expose local performers to visiting artistes, promoters and tourists.
The first festival took place in 1996 on the grounds of the Fort Thomas Hotel. Rosie Cameron designed the t-shirt that was to be a promotional item. The design was immediately adapted to become the logo of the festival.